Julie has arrived in Kenya.  Julie was a Mary Okeyo Scholarship travelers a few years ago to Kenya and she is back.  You can support her at The Lutheran Church – Missouri Synod
P.O. Box 790089 St. Louis, MO 63179-0089
 Make checks payable to The Lutheran Church – Missouri Synod.  Mark checks "McManus-Kenya" on the memo line.  Gifts can also be given securely online through the LCMS website, on my online giving page at http://www.lcms.org/mcmanus or call (888) 843-5267 for any questions.
You can follow her at – http://www.lcms.org/mcmanus
Bio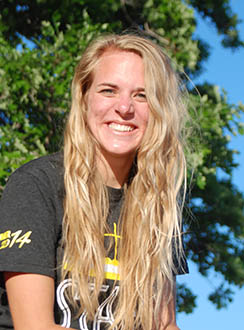 Julie McManus
Julie McManus serves the Lord through The Lutheran Church—Missouri Synod as a GEO (globally engaged in outreach) missionary in Kenya. In this role, Julie helps other missionary families during their time of transition to life in Kenya and when they are taking language classes. She helps with the early childhood-aged children in these families and supports the mothers who are taking care of these toddlers. Julie also supports some of the schools sponsored by the Evangelical Lutheran Church in Kenya (ELCK).
Julie was born in Rapid City, S.D. She was raised in Benson, Minn., where her home congregation is St. Mark's Lutheran Church. She earned a bachelor's degree in early childhood education from the University of Wisconsin-Stout, Menomonie. Before serving in Kenya, Julie worked in various capacities at Lutheran Island Camp and Retreat Center, Henning, Minn., for four summers. She also served in Hong Kong (summer 2011) and in Kenya for two weeks visiting Project 24 sites (summer 2013). In her free time, she enjoys running, playing the guitar, singing, reading, taking adventures and visiting with friends and family.